Stylish new 2019 Honda Insight Hybrid Arriving Soon
July 31 2019, Vancouver Honda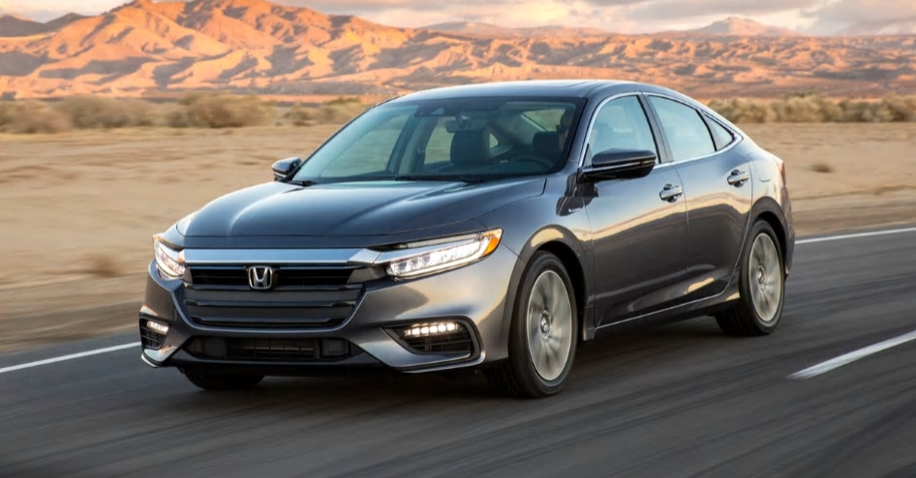 Fuel-Efficient Insight Hybrid Sedan Checks all the Right Boxes
Honda was the first automaker to arrive on the Canadian market with a modern-day hybrid, all the way back in 1999 with the first-generation Insight. Now, two generations later, Honda is bringing the Insight name back for an all-new four-door hybrid sedan.
Just one look and it's easy to see the 2019 Insight is a winner. The compact model, first launched as a prototype at Detroit's 2018 North American International Auto Show in January, which was followed up by simultaneous introductions of the production version in March at the 2018 New York International Auto Show and 2018 Vancouver International Auto Show, gets two thumbs way up for styling.
"The Honda Insight shows consumers that the efficiency of a hybrid car doesn't mean sacrificing style, refinement or performance," said Jean Marc Leclerc, Senior Vice President of Honda Canada Inc. "The Insight is another symbol of a new era in the evolution of Honda electrified vehicles, where customers can have everything they want with no compromises."

New Design Combines a Compact Premium Look with Impressive Refinement
The Insight doesn't stray too far away from the new 2018 Accord when it comes to styling, but it shares some design elements with the compact Civic as well, while it's also sized much closer to Canada's best-selling car. In fact, the new Insight shares its platform architecture with the current 10th-generation Civic, not to mention many of that car's hard points like the entire roof section, so therefore the many Honda HEV fans who are still patiently waiting for an update of the much-loved previous-generation Civic Hybrid can now rejoice-the Insight could just as well have been named for the all-time best-selling HEV in Honda's long and illustrious hybrid history.

In a press release that came out as part of its Vancouver launch, Honda called the new Insight a "premium compact sedan," and while the term premium is normally reserved for luxury branded models like the Acura ILX, such could just as easily be said for the current Civic in top-line Touring trim. Still, Honda promises "premium cabin appointments" such as "a soft-touch instrument panel with real stitching, ergonomically sculpted seats," and more.
Honda also touts a number of premium-level Insight engineering enhancements such as better ride quality, a quieter cabin, and, of course, gains in efficiency.

Lightweight Materials and Independent Suspension Promise Strong Performance
Aiding overall lightness, the Insight's ultra-rigid Advance Compatibility Engineering (ACE) body structure gets an exclusive aluminum hood, while extra sound insulation in the engine bay, behind the front firewall, inside the fenders, and under the front and rear floor improves noise, vibration and harshness levels.
Like the Civic, the new Insight benefits from a fully-independent suspension system with Macpherson struts up front and a multi-link design in the rear, improving ride quality and control during performance driving or accidence avoidance, while the top-tier Insight Touring will benefit from liquid-sealing compliance bushings front and back to further refine the ride.

The Insight also utilizes the Civic's variable-ratio dual-pinion electric power steering system, causing less drag on the powertrain than hydraulic designs, yet still providing direct response to input to satisfy performance fans.
The new Insight will also adapt regenerative braking to a mechanical (friction) electro-servo braking system, harnessing some of the kinetic energy that would otherwise be lost, and repurposing it to the ancillary electrical system.

Advanced Two-Motor Hybrid System Provides Strong Power and Superb Efficiency
The Insight is powered by Honda's third-generation two-motor hybrid system, consisting of a 1.5-litre Atkinson-cycle internal combustion engine (ICE), an electric propulsion motor, plus a 60-cell lithium-ion battery pack, resulting in 151 net horsepower and 197 lb-ft of electric motor torque.
Honda says the Insight mostly operates like a regular series hybrid, which means that its gasoline-powered ICE connects to the generator motor to produce electricity that's not only directly used to energize the electric propulsion motor, but also stored in the battery pack, after which such stored energy can be used as needed to assist the ICE for powering the wheels. Additionally, the Insight is capable of driving on 100-percent electric power for short distances at slow speeds.

The new Insight also features unique steering wheel-mounted paddle shifter-style deceleration selectors that let you choose among three levels of regenerative braking performance, depending on driving conditions. Additionally, the new model gets three selectable driving modes, including normal hybrid mode that defaults upon startup, plus "ECON" and "SPORT" modes that require the press of a console-mounted button. There's also an available "EV" mode that lets you to drive about 1.5 kilometres under electric-only power. This wide variety of settings allows the ability to personalize a driver's experience to maximize efficiency or performance.
On that note, Honda promises the Insight will deliver the "best power-to-weight ratio in its class," this partially due to its aforementioned lightweight body structure.

Special Honda Hybrid Tech Improves Performance and Fuel Economy
Interestingly, while some competitors place a transmission between the ICE/electric propulsion motor and the drive wheels in order to regulate speed, Honda's two-motor hybrid system doesn't require one, but instead the drive axles are powered directly from the electric propulsion motor. At higher speeds the engine and drive axles are connected by a lock-up clutch, which Honda says is most efficient during highway and freeway operation. Also notable, Honda incorporates its unique pushbutton gear selector for getting underway.
Of course, Transport Canada hasn't provided any official fuel economy estimates yet, and neither has the U.S. EPA, but Toyota's U.S. division is claiming mileage of "up to 55 mpg" in the city and "50 mpg or better" combined, which when converted to metric equals 4.3 L/100km city and 4.7 or better combined. As expected these are similar fuel economy numbers to official 2018 Toyota Prius ratings, so the new Insight is in good company.

Advanced Safety Tech Comes Standard
Being that Honda is now a leader in advanced driver assistance systems and active safety, the new 2019 Insight will come standard with a full suite of Honda Sensing equipment, including Forward Collision Warning (FCW), Collision Mitigation Braking System (CMBS), Lane Departure Warning, Lane Keeping Assistance System, Road Departure Mitigation, Adaptive Cruise Control with Low-Speed Follow, and Traffic Sign Recognition. For this reason and more, Honda expects the Insight will achieve best-possible safety ratings from the IIHS, NHTSA, and Euro NCAP.
Standard features in mind, our Canadian-spec Insight will be available in two trims dubbed Hybrid and Touring, with the former including full LED headlamps, LED daytime running lights, LED fog lamps, LED taillights, 17-inch alloy wheels, pushbutton ignition, a 7.0-inch TFT digital primary instrument panel, an 8.0-inch infotainment touchscreen with Apple CarPlay and Android Auto integration, Honda's exclusive LaneWatch Blind Spot Display that projects a rearward image of the blindspot onto the centre touchscreen when selecting the right-side turn signal, dual-zone automatic climate control, heatable front seats, eight-speaker audio, Bluetooth phone connectivity with audio streaming, and more.
Additionally, the top-line Insight Touring will include rain-sensing wipers, perforated leather seating, an eight-way powered driver's seat, heatable rear seats, navigation with detailed mapping, 4G LTE Wi-Fi with mobile hotspot capability and Wi-Fi-enabled over-the-air system updates, next-generation HondaLink subscription services, 10-speaker premium audio, a HomeLink garage door opener, a powered moonroof, and more.

Roomy Cabin and Large Trunk Make Insight as Practical as it's Comfortable
While the new Insight appears long, lean and sleek like a four-door coupe, Honda says the rear seating area is generous with "best-in-class rear legroom of 949 mm" thanks in part to a considerable 2,700-mm wheelbase, which incidentally is identical to its Civic Sedan donor platform. Likewise its wide track should result in good side-to-side roominess, just like the Civic, making the new Insight comfortably and easy to live with.

On this note, Honda places the Insight's lithium-ion hybrid battery pack below the rear seats, which still allows for standard 60/40 split-folding rear seatbacks to increase its passenger/cargo flexibility, while trunk space behind those rear seats measures the same sizeable 427 litres as the conventionally powered Civic Sedan.

New 2019 Insight to Become Most Affordable Hybrid in Honda Lineup
The new 2019 Insight will arrive at Canadian retailers this summer, at which point it will become the most affordable HEV amongst Honda's three-strong electrified lineup, which currently includes the $39,900 mid-size 2018 Clarity Plug-in Hybrid and more recently launched $33,090 2018 Accord Hybrid. Expect pricing to be announced soon.

To find out more about the 2019 Insight or any of the new Honda hybrid models, contact Vancouver Honda by phone at (877) 860-5172 or drop by the showroom at 850 Southwest Marine Drive, Vancouver.