Stylish Honda Insight Available From Just $27,990
July 31 2019, Vancouver Honda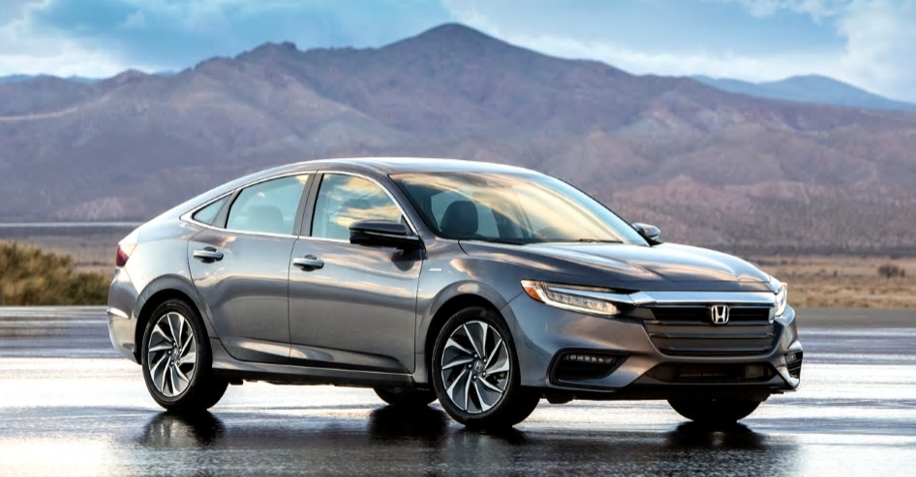 4.6 L/100km City Rating Makes Insight one of Canada's Most Fuel-Efficient Cars
The all-new 2019 Honda Insight will have a base price of $27,990 when it arrives at Vancouver Honda this summer, plus its claimed 4.6 L/100km city, 5.3 highway and 4.9 combined fuel economy rating will make balancing your budget easier, in spite of our local pump prices continuing to climb.
The new Insight is a large compact sedan, sized almost identically to the Honda Civic Sedan that it's based on. This means it sits directly below the mid-size Honda Accord Hybrid in size and price, the larger model, starting at $33,090, still extremely thrifty at 5.0 L/100km city, 5.1 highway and 5.1 combined.

Fuel-Efficient Insight Compact Fills Void Left by Previous Honda Civic Hybrid
At the top of the Honda hybrid-electric range is the new Clarity Plug-in Hybrid, which adds the advantage of a larger battery that can be charged externally for much greater electric-only range. The Clarity Plug-in Hybrid, sized similarly to the Accord Hybrid, starts at $39,900, and can achieve up to 5.3 L/100km in the city, 5.9 on the highway, and 5.6 combined in regular hybrid mode, or much better if you keep its batteries charged up and drive it as much as possible in EV mode.

Like the compact Civic Hybrid that came before, new Insight four-door sedan should be a popular seller for many good reasons. First, the new Insight is roomy inside with space enough for five adults, while its 428-litre trunk doesn't losing any volume to the regular Civic Sedan, and even keeps its handy split-folding rear seatbacks. What's more, its four-door sedan layout means that its enclosed trunk provides greater security from would-be thieves than the hatchback design used by the Toyota Prius and Hyundai Ioniq, the closest Insight competitors.

New Insight is More Powerful Than Prius or Ioniq
Another Insight positive is its unique two-motor powertrain design, which uses one motor for power and the other for generating electricity. It provides 151 total system horsepower, giving it a performance advantage over its aforementioned rivals, with the Ioniq Hybrid rated at just 139 net horsepower and the Prius at just 121.
Additionally, the new Insight is arguably better looking than its peers, and is certainly more conventional in design than the unusually shaped Prius. Those turned off by the Toyota model's visual overload will be happy that Honda is now providing another Japanese hybrid alternative.

Standard and Optional Feature Sets are Generous
The new 2019 Insight will be available in base and Touring trims, the more luxurious of the two starting at $31,590 and providing upscale features like leather upholstery, a four-way power passenger seat, navigation, a powered sunroof, and more.

On that note, base models will arrive with standard multi-element LED headlights, pushbutton ignition, an 8.0-inch infotainment touchscreen with Apple CarPlay and Android Auto smartphone integration, plus the Honda Sensing suite of advanced safety and driver-assistive technologies that includes autonomous emergency braking, lane-keep assist and adaptive cruise control.

Insight Nameplate Has a Long, Rich Hybrid History
If you're new to the hybrid market and wondering where Honda came up with the new model's name, or if you've followed hybrid-electric mobility long enough to remember the original two-door, two-seat Insight and five-door version that followed, the Japanese brand deserves credit for being the first automaker to bring a modern-day hybrid to the North American markets in 1999. After a long seven-year run (1999-2006) the sporty first-generation Insight was replaced by a more practical five-door hatchback second-generation model (2009-2014), which was eventually superseded by the Civic Hybrid (2003-2016) that became the most successful hybrid-electric vehicle in Honda's history.

Honda will be hoping that its new Insight is even more successful, and it truly should be as it combines the rich hybrid heritage of the original 1999 model with the overall practicality of the four-door Civic Hybrid, but does so in a much more advanced, thoroughly modernized, and ideally stylish way.

To find out more about the 2019 Insight or any of the new Honda hybrid models, contact Vancouver Honda by phone at (877) 860-5172 or drop by the showroom at 850 Southwest Marine Drive, Vancouver.