2017 Honda HR-V EX-L Navi Road Test Review
August 02 2017, Vancouver Honda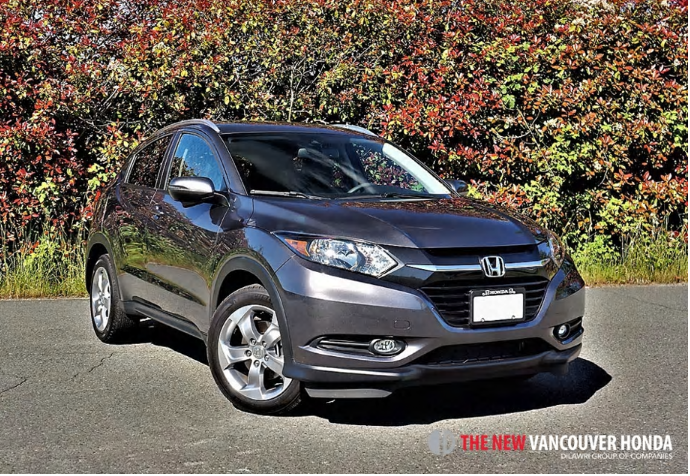 Still the Most Versatile Subcompact SUV Available
Just two years ago Honda hadn't even staked a claim in the burgeoning subcompact SUV category, but within its first seven months of availability the HR-V was raised up as the class favourite by popular demand, and then repeated the feat in 2016 by becoming the only segment challenger to break five figures. Things aren't letting up this year either, with Honda's smallest SUV nearly doubling the sales of its next closest rival at the close of Q2 2017. That a newcomer has managed to steal most of the thunder in this class isn't just surprising, it's downright shocking, but to those who've spent time with the amazingly practical little HR-V it likely makes perfect sense.
We Canadians can be pragmatic to a fault when it comes to buying small vehicles, which we do more often than our friends to the south. Next to big pickup trucks that derive much of their sales from the commercial market, our bestselling car is Honda's compact Civic.
The HR-V gets no significant changes for 2017, with only two items on the list. The first is the cancellation of the lovely Misty Green Pearl hue (a dark forest green) that coated the exterior of the 2016 HR-V AWD EX-L Navi I tested and reviewed last year (I reviewed the 2016 HR-V EX-2WD as well). Therefore, the only difference between this 2017 HR-V AWD EX-L Navi is its stealthy Modern Steel Metallic grey. This means Honda now provides six exterior HR-V colours to choose from including this nice shade of grey, Crystal Black Pearl, White Orchid Pearl, Deep Ocean Pearl (a dark blue), Milano Red, and Mulberry Metallic (a dark aubergine purple).
The second change is another subtraction, the elimination of the six-speed manual on mid-grade EX trim. This might cause a tiny handful of HR-V fans to grimace, but if there were going to be a major outcry they wouldn't have axed it. As it is, only the base LX model gets the wonderful DIY gearbox for 2017, all other trims making do with Honda's efficient continuously variable transmission (CVT).

All HR-V Trims Come Well Equipped
From the outside it's difficult to figure out exactly which trim level is coming at you, mostly because the HR-V is so nicely featured in base trim. All get fitted with the same sizeable 17-inch five-spoke alloys on 215/55 all-seasons, body-coloured side mirrors, and body-coloured rear rooftop spoiler, while the headlights are multi-reflector halogens and taillights filled with LEDs. Lastly, matte-finish black plastic cladding trims out the lower front fascia, wheel arch edges, side skirts, and the bottom half of the rear bumper in typical SUV fashion. The move up to EX adds circular fog lamps up front and LED turn signals within the side mirror housings, while the top-line EX-L Navi gets a set of silver roof rails to make it stand out.
While not the sportiest in the class the HR-V is still plenty enjoyable to drive, Honda purposely choosing to make it one of the more comfortable little utes in the segment rather than win any canyon carving slalom awards. That's ok by me, as I'm not about to autocross my subcompact SUV on a Sunday afternoon, these types of vehicles meant for daily commuting, running weekly errands, and occasionally coursing up the mountain for hiking in summer or the hitting the slopes mid-winter, not to mention the odd family vacation road trip.
Performance Won't Let You Down
If the pavement below happens to undulate and wind in any of the latter scenarios you'll be well taken care of as the HR-V's independent front MacPherson strut and rear torsion beam suspension setup isn't only about comfort, but rather zigs and zags quite well thanks to amplitude reactive dampers and a stabilizer bar at each end. Electrically powered rack-and-pinion steering provides decent feedback too, while my tester's Michelin Primacy MXV4 all-seasons did an admirable job of holding their chosen lane when pushed hard.
Overall the HR-V's handling seems to have improved since it came out two years ago, with a slightly tighter feel and better response to steering input, while takeoff remains very good for the class thanks to its 141 horsepower 1.8-litre direct-injected four-cylinder engine and fairly responsive continuously variable transmission (CVT). Again, I don't think people who buy into this class are looking for something super sporty, but the HR-V delivers above its requirements and more importantly the CVT is extremely smooth.

You can slide it into Drive for the best economy, which is where I left it most of the time, but when you're feeling frisky just pull the gear lever further back into "S" sport mode and play around with the steering wheel paddles for a little fun. Yes, you heard me right, paddle shifters in a subcompact SUV. It's not going to put you off the eventual purchase of a now classic S2000 or something similarly sporty down the road, but as far as having a little fun behind the wheel the HR-V's CVT proves engaging enough, especially for downshifting. If you leave it in Sport mode it'll even hold its gear up to redline before shifting, and shifts quite quickly compared to other pseudo automated stepped CVT transmissions I've tried. Good job to Honda for making this gearless box as good as CVTs get.
Likewise its standard four-wheel discs provided ample stopping power when called upon, the ABS system providing zero lockup during panic test stops thanks to the usual electronic brake-force distribution and emergency brake assist joining in. Of course, electronic traction and stability control are also part of the standard safety package, even making front-wheel drive models capable in slippery conditions, whereas hill start assist prevents rollback when taking off uphill on a steep incline. The HondaLink Assist automatic emergency response system is also included, along with the usual six airbags just in case.
Top-Tier Active Safety Standard in Ex-L Navi Trim
Being that my tester was a top-line EX-L Navi, forward collision warning and lane departure warning were part of the package too, an added electronic safety net to reduce the chance of frontal or side collisions, whereas Honda's Real Time AWD with Intelligent Control System also comes standard in this trim, superior to the FWD system during brutally cold winters like we endured last year.
You have no control over the AWD, the car's systems smartly deciding when to add torque to the rear wheels on their own, but you can turn off the stability control if you dare, and you've got full power over the big green "ECON" mode button too. Press it and power gets doled out more evenly and shifts arrive sooner to minimize fuel usage, while you can also check the HR-V's handy Eco Assist driving coach to make sure you're not wasting fuel unnecessarily. Years of building HEVs has taught Honda a thing or two about environmental issues, so don't think for a minute the HR-V isn't a green SUV just because there's no hybrid badging on back.
On that note the HR-V is particularly thrifty on fuel at 9.4 L/100km in the city, 7.1 on the highway and 8.4 combined when suited up to the manual and its lone front-wheel drivetrain, or an even more impressive 8.3 city, 6.9 highway and 7.7 combined with the FWD CVT. My as-tested AWD CVT was rated at 8.9 L/100km city, 7.5 highway and 8.2 combined, which is still excellent for an SUV with very capable four-season functionality.
Ultimately Flexible "Magic" Seating System Standard across the Line
Now that I'm talking practicality again, it's time to tell you why I recommend the HR-V (and the Fit hatchback) more often than any other vehicle in this class: "Magic Seats"! Ok, they're not magic, but they're engineering wonders that deliver near best-in-class cargo capacity and completely unmatched passenger/cargo flexibility. Honda uses the same rear seating system for its Fit, by the way, and they're so much more useful than anything else in their respective classes that it's a wonder any competitors sell at all. In a nutshell, the rear row is split in the usual 60/40 configuration and folds down just like any other subcompact SUV's second-row seats, although thanks to a flat mid-mounted fuel tank they lay deeper within the floor for a much taller rear cargo compartment and therefore a lot more space than average, but that's not the "Magic" part.
If you leave the seatbacks upright, you also have the ability to lift the lower cushions upright, similarly to the rear seats in some pickup trucks, and they lock into place by pushing their metal legs inward. In this scenario you've got room for a bicycle (sans front wheel), tall plants, otherwise awkward furniture, and the list goes on.
The numbers tell the rest of the story, with the HR-V offering up 688 litres of volume behind its upright rear seatbacks in FWD trim or 657 litres with AWD, a scant 31-litre difference, or 1,665 litres and 1,631 litres respectively when those seats are laid flat. Unfortunately Honda doesn't provide information about cargo volume behind the front seatbacks and ahead of the rear seats when the rear cushions are raised, but there's no competitor to compare the measurements to anyway, so the point is moot.
Amazingly Refined Interior Sets the HR-V Ex-L Navi Apart
The HR-V's passenger compartment is plenty roomy for the class too, while overall visibility is excellent. Even more impressive was the luxury detailing found throughout the cabin of my EX-L Navi tester, thanks to some very upscale soft touch surface treatments normally only found in the premium subcompact SUV class. It starts with a nicely padded and stitched leatherette instrument panel that starts just to the right of the primary gauges and stretches across the front passenger area to the door. Additionally, the sides of the lower console are trimmed in the same material, all the way to their rearmost edges, this treatment also covering the centre and side armrests. The door inserts are even softer and more leather-like, while the door uppers are finished in the same high-quality treatment as the inserts. Believe it or not, Honda has taken this high level of detailing into the rear seating area too, even finishing the doors off the same way. This is unheard of in this class, some premium branded models not even going so far to pamper their occupants.
Honda falls short of wrapping the roof pillars in cloth, but again some professing to hail from luxury brands don't go any further than covering the A pillars in anything but textured hard plastic, so once again it's a moot point. It's just so good in every other way I almost expected the ultra-plush treatment.
Additional high-end kit includes a superb high-resolution 7.0-inch infotainment touchscreen with navigation, a multi-angle backup camera with active guidelines, Apple CarPlay, Android Auto, and the pièce de résistance, Honda's exclusive LaneWatch blindspot display that projects a real-time rearward view of the car's passenger side onto the infotainment display when employing the right turn signal, plus a beautifully finished, mostly touch-sensitive dual-zone auto HVAC interface just underneath.
The upgraded six-speaker 180-watt audio system is quite good, although it seemed better suited to dance than rock. This should suit its millennial-aged target market better anyway, and I'm guessing a little more time spent with the tone/EQ controls would help improve audio performance when listening to either Jimmy's flailing guitar solos. Just in case your genre is predominantly Ma or Marsalis, or talk radio is your thing, sound quality certainly didn't fail me in these varieties either. In other words, it's a good system for a car in this class. Audio sources are equally impressive, including AM, FM, satellite, HD, CD, USB, iPod, aha, Audio apps, Bluetooth streaming, and HDMI.
A bold red pushbutton ignition on the dash follows Honda's usual sporting form, while a chrome tipped electromechanical parking brake pull switch and brake hold button finishes off the lower console. Switchgear is excellent throughout, especially those on the nicely formed leather-wrapped sport steering wheel. Honda has splashed bright metal accents and piano black surfacing throughout too, really sprucing up the interior, while the leather seats are another move upmarket for this little SUV.
Standard and Optional Features Are Plentiful
A short list of $30,450 EX-L Navi features include roof rails, an auto-dimming rearview mirror, a leather-wrapped steering wheel and shift knob, leather upholstery, navigation, voice recognition, HD and satellite radio, a folding rear centre armrest with two integrated cupholders, plus lane departure warning and forward collision warning as noted earlier.
Items not yet mentioned that get pulled up from lesser trims, ranging from the base $21,150 LX-2WD to the $27,250 EX, include auto on/off halogen headlamps, proximity-sensing keyless access, heatable powered side mirrors with a driver's side blindspot mirror, a windshield wiper de-icer, variable intermittent wipers, one-touch turn signals, powered windows, illuminated vanity mirrors, a powered moonroof, a tilt and telescopic steering wheel with illuminated audio and multi-information/infotainment switchgear plus Bluetooth phone and cruise buttons, heatable front seats, next-generation HondaLink smartphone integration with text message capability and Siri Eyes Free, Bluetooth streaming audio, dual USB ports, an aux jack, three 12-volt power outlets, an LED pocket light, rear tinted privacy glass, a cargo cover, cargo area tie-downs, and more.
Is it the best SUV in the subcompact class? As noted earlier, Canadians buying into this segment seem to think so. It's hard to knock Honda quality either, or the NHTSA that awarded it with 5 stars for safety.
When weighing good and bad I'm ardently in the HR-V's camp, but don't just take my word for it. Try one for yourself. I believe you'll quickly understand why it's by far the most popular subcompact SUV in Canada.