2017 Honda Civic Coupe Touring Road Test Review
August 02 2017, Vancouver Honda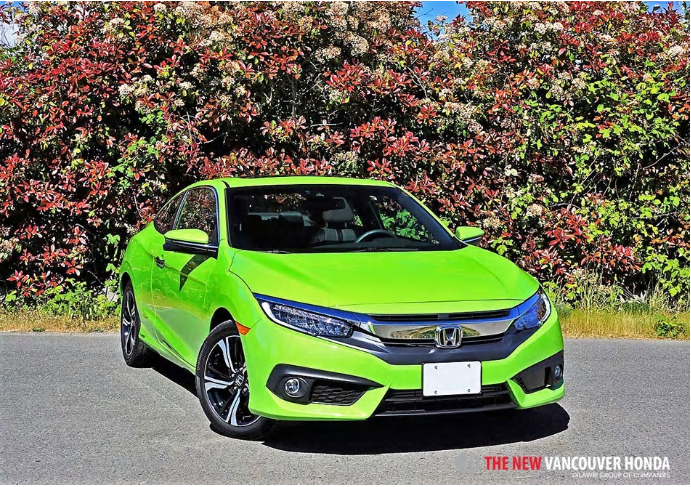 Updated Two-Door Hardtop Is New Style and Tech Leader
If you've never experienced a Honda Civic, you're truly missing out. Even if you only drive luxury branded sport/luxury models, take note there's something very special about this car that not only sets it apart from all peers, but also gives it near premium cachet.
The day-glow Energy Green Pearl-painted 2017 Civic Coupe Touring in front of you (a colour not available in base models) looks every bit the part of Honda's revered sport compact lore, its eye-searing styling, big machine-finished alloys, and perforated leather-clad, high-tech cabin capable of vying for attention within a crowd of Italian supercars.

New Lineup of Powerful Engines Add Excitement to Stylish Coupe
The new Coupe backs up its fashionable attire with two impressive engines. The first is the base LX model's naturally aspirated 2.0-litre four, which makes 158 horsepower and 138 lb-ft of torque. A wonderful little engine, I tested it out last year in Sedan EX trim and really enjoyed its performance. The second engine in the lineup is the reason for the "-T" in the EX-T name, a 1.5-litre direct-injected and turbocharged four-cylinder that makes a satisfying 174 horsepower and 162 lb-ft of torque.
The Coupe comes in three trims for 2017 including the $19,690 LX, $23,290 EX-T, and top-line $27,790 Touring tested here. This fully loaded model includes new Honda Sensing technologies as standard (more on these in a moment), whereas the first two trims make them optional at $21,990 for the LX Honda Sensing and $25,990 for the EX-T Honda Sensing. Of note, the non-Honda Sensing models come exclusively with Honda's superb six-speed manual, whereas those with the advanced suite of active safety features come standard with the Japanese brand's impressive continuously variable transmission (CVT).
While the Touring model doesn't include the "-T" in its name it nevertheless boasts the peppier engine, a powerplant that's tractable from almost anywhere in its rev range. In order to maximize the engine's fun factor, the especially efficient CVT has had its "one-speed" nature modified to include stepped gear ratios for much greater driver engagement. It also receives a Sport mode that lets the revs spin higher between shifts, aided by a nice set of paddle shifters on the steering wheel. While especially helpful for holding gears when pushing the Coupe through a winding back road, something the car continues to do better than most in its class, it's also good for short-shifting the revs to use less fuel.
Superb Fuel Economy Has Long Been a Civic Trademark
Honda's claimed rating for the upgraded turbo four and CVT is 7.6 L/100km city, 5.5 highway and 6.7 combined, even better than the base engine/CVT combo's 7.8 city, 5.8 highway and 6.9 combined rating despite the added power, whereas the base mill with the six-speed manual is least thrifty at the pump at an estimated 8.9 city, 6.1 highway and 7.7 combined. Still, any of these numbers read economy car rather than performance-oriented sports coupe, which is a big bonus to Vancouver buyers that really haven't benefited much at all from the plunge in oil prices.

Honda adds a green leaf graphic Econ button for eking out the best mileage, and it's a more discreet black square situated down on the lower console rather than the old car's big green button on the instrument panel. This newfound sophistication isn't just kept between the seats, but rather the entire Civic cabin is a feast for millennial eyes. Really, while its bright, high-resolution, full-colour displays directly target those who spent most of their formative years in front of digital screens, even those of us who remember life before colour TVs will appreciate the new Civic's high-tech electronic interfaces, from the brilliantly clear and colourful primary gauge package featuring a seven-inch TFT multi-information display at centre, to the superb infotainment display jutting out atop the centre stack, it's the best of the best, even superior to many luxury-branded compacts in both form and function.

Premium-Level Infotainment and Cabin Refinement Set the Civic Apart
The multi-information display and numerous other functions are controlled via high quality steering wheel switchgear that even features a touch-sensitive audio volume slider, while the infotainment system's touchscreen is infused with HondaLink, Apple CarPlay and Android Auto, plus SMS text message and email functionality, Wi-Fi tethering, dynamic guidelines for the multi-angle rearview camera, a fabulous sounding 450-watt 10-speaker audio system, HondaLink Assist automatic emergency response, and more.
A slick dual-zone auto HVAC interface rests just below, complete with a useful "CLIMATE" button at centre that changes the infotainment screen to user-friendly HVAC graphics when pressed, while underneath that is a wireless charger enhanced tray that was large enough for my gargantuan Samsung Note. The rest of the cabin is a mixture of premium-like soft touch surfaces mixed with the compact segment's usual harder composites, albeit the latter panels are higher quality than most rivals and matte finished for less sheen, while ultra stylish brushed aluminum-look inlays enrich the design.
My tester's leather seat upholstery was two-tone black and dark grey, the black used for sporty stripes down each bolster and at centre, and the door inserts covered in grey leatherette for a cohesive look. There's no shortage of space, the Civic seeming more mid-size than compact even in back where the seats are very accommodating and quite comfortable for a sport coupe. I actually had about six inches in front of my knees when the driver's seat was positioned for my five-foot-eight height, while three inches remained above my head. The rear seats provided good back support too, while they're split 60/40 for managing cargo and equipped with handy release pulls under the lid, the Civic Coupe Touring's 337-litre trunk (which is six litres larger than the previous generation Civic Coupe Touring) fairly sizeable for the class.

Styling That Turns Heads
That trunk is the Coupe's most interesting element, although I'm now referring to the way it looks from outside. Honda had already taken the compact segment on a complete visual departure when the Civic Sedan arrived on the scene last year, but the Coupe's wrap-over taillight design is even more eye-catching. Honda finishes off the rear bumper with a diffuser-like black mesh insert that pulls cues from the lower front fascia, my tester's upgraded with a nice set of circular fogs and even more impressive full LED headlamps.
These come standard with the Touring, a model that also includes the aforementioned 17-inch alloys on 215/50R17s, plus auto on/off headlights, LED turn signals on the side mirrors, LED taillights, remote start, proximity-sensing access with pushbutton ignition, walk-away powered locks, heatable powered side mirrors, an auto-dimming rearview mirror, an electromechanical parking brake, one-touch turn signals, rain-sensing wipers, navigation, Bluetooth phone and audio streaming, HD and satellite radio, multiple USB ports, a powered moonroof, plus everything mentioned previously and more, and of course all the gear pulled up from LX and EX-T trims.
IIHS Top Safety Pick Plus Safety Available
On that note, remember Honda Sensing? It includes forward collision warning with collision mitigation braking, plus lane departure warning, lane keeping assist and road departure mitigation, as well as adaptive cruise control with low-speed follow, which just happens to be most of the electronic equipment needed for an autonomous car, although the Civic Coupe isn't set up for self-driving yet. So equipped it achieves IIHS Top Safety Pick Plus status, mind you, while all Civics are good for five stars from the NHTSA.
One of my all-time favourite active driving aids is Honda's exclusive LaneWatch blindspot display that shows a passenger-side rearward view on the infotainment screen when flicking the turn signal to the right, while the Civic Coupe gets all of the usual standard active and passive safety gear as well.
Of note, every 2017 Civic also boasts stability assist-managed torque vectoring to improve responsiveness; a feature Honda dubs Agile Handling Assist (AHA). AHA applies unnoticeable braking force to the inside wheels when the steering wheel is turned, and then the same to the outside wheels when steering is returned. Additionally, Straight Driving Assist reduces steering effort when moving on a sloped or crowned road surface.
All Civics ride an a comfortable yet very capable independent front strut and rear multi-link suspension with stabilizer bars front and rear, the Coupe's setup tuned a bit more for performance than the Sedan's, while I found the electrically assisted rack-and-pinion steering plenty responsive with good feedback. Likewise, braking is excellent for the class.
The Civic Can't Be Matched in Its Class
The new Civic Coupe lives up to Honda's legendary performance credentials, especially in upgraded turbo form, and just like Honda's two-door models from the past it also delivers comfortable seating for four and plenty of room for cargo. Now with best-in-class electronics and some of the nicest interior design and refinement, it's by far the class leader, which is reason enough for its stellar sales success.