2016 Honda Civic Sedan EX Road Test Review
August 02 2016, Trevor Hofmann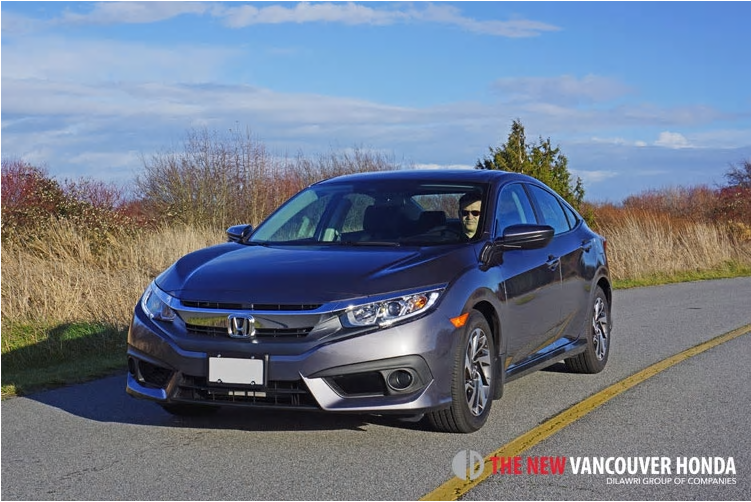 Game Changing Civic Disrupting Entire Compact Segment
Canada's number one selling car has been completely redesigned for the 2016 model year and sales are already up 14.4 percent with just five months of the year behind us. What's more, the Civic's closest competitor, which was redesigned even more recently only gained 8.8 percent over the same period, while the next three most popular sellers and most others in the compact car segment are experiencing significant downturns in sales that they're collectively blaming on the popularity of compact SUVs. Those that have driven the new Civic know better, however. It's the game changer that's disrupting the entire class.
The Civic has grown to legend status since it debuted in Canada in the early '70s, having been our country's bestselling car for the last 17 years straight. That won't likely change anytime soon. Honda calls this redesigned 10th generation Civic "the most ambitious remake of the model in its 43-year history." I have to agree, but the word "redesign" just doesn't do it justice, being that every aspect of the 2016 Civic has been completely rethought. Back to the drawing board is a more appropriate expression, the new car completely different than its predecessor and ultimately unique in its category, its interior design and execution totally raising the bar within its class, its technology some of the segment's most advanced, and its powertrains not only ahead of most of its compact rivals, but all-new for Honda as well. Somebody high up in Honda must have asked the question, "What would we do if we were allowed to create an entirely new compact car?" and after the answers were compiled they were actually allowed to build it.

Sometimes I leave my thoughts about styling alone because you either like a car or you don't, so why should I try to influence you either way? Yet with the new Civic I feel compelled to comment, because it's such a complete departure from anything Honda has done in the past. First off, I like it. Where the Civic has long been a staid and conservative four-door sedan that appeals to those who appreciate quality, economy, dependability, comfort and performance, the 2016 model continues to maintain these core principles yet has embraced a new sense of style that, if it were from a brand with less credibility, might cause people to think it's become frivolously ambivalent to such previous sensibilities. The new Civic is all sharp creases, vertexes and angles combined in a thoroughly unorthodox shape. It starts with a bold, brash slab of chrome trim striking through two narrow grille slits before extending up and over each headlight assembly to the far corner of the front fenders.

The headlamps are wonderfully complex projectors wrapped around each side by narrow LEDs, even available with full LEDs in top-line Touring trim, while a sporty front spoiler just below is all sharp cuts and angles. Honda trims out the top of each side window surround with chrome, the bottom done in matte black like the pillars. The rear glass is so large and gently raked that it makes the car look like a fastback, or dare I say four-door coupe, while its tail is so sharply cut off that it's as if the new Civic was aerodynamically designed for success in Touring Car racing. There's really nothing like the new Civic on the road today. It makes everything else look old.
The high style continues inside, although it's the Civic's high quality switchgear that impressed more, the various buttons, knobs and toggles fitting tightly together with absolutely zero sloppy wiggle, the damping so nice, and the quality of plastics used so good that they make a variety of premium cars seem shoddy by comparison. The best of the best is on the steering wheel, a touch-sensitive audio volume slider that curves to follow the left thumb's natural rotation. It worked perfectly throughout my test week, which can't be said for a number of other touch-sensitive controls I've tried, while the surrounding multi-infotainment toggle and phone/voice activation buttons are second to none, as are the group of adaptive cruise control buttons on the right spoke.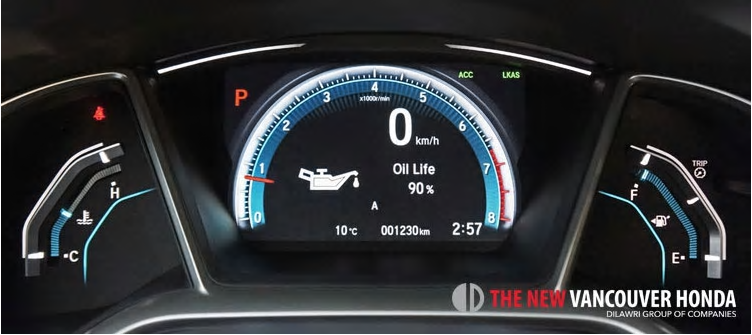 I'm glad Honda finally dispensed with the two-tier primary gauge design, if only because it was time for a change. The new design won't leave anyone feeling like they're missing anything however, especially digital fans as there isn't a single analog element included, while they're beautifully detailed with fine light blue and bright white illumination. The centre dial is more of a combination TFT multi-information display set within a large semicircular tachometer, speed displayed in a large digital readout. When something important needs to be displayed it flashes across the tachometer and speedometer, giving a warning or some other type of critical info. It's an active design that's totally functional and state-of-the-art.
This is all very nice, but the most artful bit of Civic interior design is the tablet style infotainment panel that appears to float about an inch above the instrument panel as it juts up out of the centre stack, beautiful textured metal-look trim underneath, while the dual-zone auto HVAC panel below is a lesson in minimalist simplicity and just plain good design. A very smart addition is a large rectangular button at centre that shows a fan image before reading "CLIMATE" that when pushed changes the infotainment screen to a simple set of HVAC graphics. Seat heater controls just below offer three-way temperature settings for both front passengers, the hottest position nice and toasty in the lumbar area for soothing relief from back pain.
Overall the dash design is very appealing, the layout conventional but the overall appearance new and contemporary. I mentioned the textured metal trim, which spans the entire instrument panel from just left of the primary instruments to the right side of those gauges where it continues below the infotainment display and over to the right side vent. A padded leather-look section under that strip of metal inlay circles around the vents before covering the entire dash top with soft-touch synthetic, the same treatment also flowing rearward overtop the door uppers. The remaining upper door panels are finished in a similar woven black cloth to my EX trimmed tester's seat material, as are the armrests, those seats enhanced further with grey contrast stitching and a sporty grey and black stripe down the middle. There's plenty of satin silver metallic trim throughout the rest of the cabin that lends to the car's upscale ambiance, some of it surrounding the lower console that's elegantly laid out with a substantive shifter down the centre, a Brake Hold button and electromechanical parking brake toggle to the left, plus a much more integrated new Econ button to the right, although more important to its overall livability are its myriad conveniences.
Of course these include the usual lighted vanity mirrors, map lights, glove box, lidded centre console/armrest, door pockets, etcetera, but something I found very handy was a floating centre console design with a rubberized compartment for dual smartphones along with USB and 12-volt chargers, plus another rubberized space ahead of the gear lever just above that comes complete with a hole allowing charging cords to connect through to the outlets below.
Those front seats just mentioned were extremely comfortable with good adjustment including height-adjustable shoulder belts for better fit around the neck, while rear seating is much more accommodating than the previous Civic, with more legroom than anything I can remember in this class, plus adequate headroom. There was about three inches remaining above my five-foot-eight frame, which should mean that a person of about six-foot-two should be able to sit in back without butting head against the roof. I had plenty of room from side to side as well, while the seatback offered decent lumbar support and a centre armrest allowed a place to put my drink and rest my elbow.

The trunk has a large opening revealing a lot of space at 428 litres (15.1 cubic feet), which is 75 litres (2.6 cubic feet) larger than last year's trunk, while optional 60/40 split seatbacks add to its versatility.
My mid-grade EX model is priced at $22,590 plus freight and dealer fees, which is $6,600 more than the $15,990 base Civic DX. It includes a standard continuously variable transmission (CVT), 16-inch alloys on the same 215/55R16 all-seasons as the base model, remote start, proximity access with pushbutton ignition, walk-away door locks, speed-sensing variable intermittent wipers, illuminated vanity mirrors, passenger-side seatback pocket, dual-zone auto HVAC, a powered moonroof, and my favourite Honda feature, the LaneWatch blind spot video system that uses a rearward facing camera on the passenger-side mirror to project a live feed of the blind spot when activating the right turn signal.
My tester included some additional convenience and active safety upgrades through its $1,000 Honda Sensing package including adaptive cruise control with low-speed follow, lane departure warning, lane keeping assist, road departure mitigation, forward collision warning, and collision mitigation braking, all combining for a Top Safety Pick Plus rating from the IIHS, whereas all 2016 Civic trims get a full five stars from the NHTSA.
Behind the scenes with all Civics are two new standard systems that improve the driving experience. Agile Handling Assist (AHA) is a type of torque vectoring system that adds responsiveness and road holding during daily use driving via the stability assist system (that is normally just used for anti-skid purposes) by applying light unnoticeable braking force to the inside wheels when the steering wheel is rotated and then to the outside wheels when steering is returned. Additionally, standard Straight Driving Assist reduces steering effort when on a sloped or crowned road surface.
These feature help balance a particularly comfortable ride with better than average capability through the corners thanks to a fully independent suspension that includes a sophisticated multi-link rear setup plus front and rear stabilizer bars, while the steering is electric-assisted rack-and-pinion with direct response and fairly good feedback. Push the Civic EX hard through tight curves and it holds to its line well while exuding a sense of overall confidence. Its ride quality actually feels better than the car it replaces, while overall it's quieter and more refined.
A competent chassis is more critical in this new Civic than it has ever been, because its new engine lineup delivers a lot more performance than any previous iteration. My tester featured the base 16-valve, DOHC, i-VTEC-enhanced 2.0-litre four-cylinder capable of 158 horsepower at 6,500 rpm and 138 lb-ft of torque at 4,200, although as noted in EX trim the CVT replaces the six-speed manual. Takeoff from standstill is excellent with Sport mode engaged, which improves the transmission's willingness to keep the engine at higher revs. Normal mode causes the transmission to drop into a higher gear more readily, hardly letting it rev at all and causing near silent operation, but Sport mode lets all the best sounds out and happily revs this wonderful new engine the way it's designed to.
Of course, the new CVT has a primary mission of minimizing fuel usage and therefore with Eco Assist and the Econ mode button engaged it gets a claimed fuel economy rating of 7.8 L/100km city, 5.8 highway and 6.9 combined, which is better than last year's 1.8-litre with the CVT. I should also mention that the six-speed manual, which is the only transmission available on the base DX and standard on the second-rung LX, is rated at 8.8 L/100km city, 5.9 highway and 7.5 combined.
All Civic trims feature LED daytime running lights, LED taillights, powered windows, tilt and telescopic steering, one-touch turn signals, a multi-angle reverse camera, Siri Eyes Free, Bluetooth phone and audio streaming, speed-sensitive audio volume, a single USB port, and a full suite of active and passive safety features, while LX trim adds auto-on/off headlights, an acoustic windshield, the big seven-inch colour TFT multi-information display I described earlier, cruise control, heatable front seats, capacitive touch steering wheel controls, filtered auto HVAC, a larger infotainment display with HondaLink, Apple CarPlay and Android Auto, SMS text message and email functionality, Wi-Fi tethering, dynamic guidelines for the rearview camera, four more speakers for the upgraded 180-watt audio system, an additional USB port, HondaLink Assist automatic emergency response, a rear armrest with cupholders, and the split-folding rear seatback.
If that's not enough you can upgrade to EX-T trim that gives you a turbocharged 1.5-litre four-cylinder with 174 horsepower and 162 lb-ft of torque and even better 7.6 L/100km city, 5.5 highway and 6.7 combined fuel economy. It also provides all of the Honda Sensing equipment standard, plus fog lamps, 17-inch alloys, a rear spoiler, and a leather-wrapped steering wheel, or you can go whole hog with top-line Touring trim that gets full low and high beam LED headlights, LED front turn signals, LED turn signals on the side mirrors, rain-sensing wipers, an auto-dimming rearview mirror, wireless charging, leather upholstery, an eight-way powered driver's seat and four-way powered front passenger's seat, heatable rear outboard seats, navigation, voice recognition, and a 450-watt 10-speaker audio upgrade with the addition of satellite and HD radio plus a subwoofer.
I drove that Touring model after this EX and was so impressed I recommended it to my brother who was looking to trade in his pricey premium-branded car on something else from a premium brand, but he saved a lot of money and is now driving what I think is a better car than even many luxury brands can offer.
It appears the new Civic is not only disrupting the compact car segment, but a lot of other categories too. It's easily the best compact car available, period.